The Professional Choice for Page Flip and Mobile App Publishing

Digital Publishing Solutions
Make your offline marketing collateral work for you in an intuitive way online. Not just on the desktop but on smartphones and tablets too.
Page Flip offers fully customised desktop page turn direct from PDF files and fully customisable mobile apps for publications using our suite of apps for both Apple and Android devices. Call us or contact us to find out more!
Our satisfied client's include some of the biggest brands in the world, you can join them for a lot less than you think...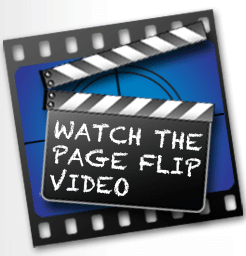 You're In Great Company, Look At Our Satisfied Customers
Click here for more info
Using ebrochures and virtual catalogues as part of your marketing mix – A guide for marketers
PDF Page Flip has become a popular way of presenting marketing materials and offline brochures to prospects and customers on the internet.
There are many solutions, from the very basic inexpensive and sometimes free versions that are plastered with 3rd party ads, through to the professional systems that allow you to add multimedia and control the branding of your e-brochures.
Whichever system you choose, in a manner similar to a website, creating the page flip brochure won't bring them in their hordes! You still need to implement a strategy within your marketing mix to get them engaged.
Whilst the e-brochure will look great, and have the tactile approach of a normal catalogue, you will need to employ marketing tactics to generate visitor interest.
As with any digital marketing tactic it will also be important to set out goals for the e-brochure campaigns and to have methodologies in place to measure them.
One of the positive aspects of the page flip e-brochure solution is that it is gaining wider user acceptance and understanding, and is becoming a 'norm' for brands wishing to show their offline materials on their website with more interactivity and user experience that plain PDF downloads.
Bigger brands have realised that their e-brochurse can be combined with advanced multimedia options such as Flash pre-loaders that launch an e-brochure packed with user engaging features such as on-page video to emulate TV advertising or showcase product demonstrations for complete brand or product microsites and online campaigns. When these are combined with lead generation or e-commerce tactics and powerful analytics it is easy to create an exciting user experience and measure their ROI quickly and efficiently.
There are 5 tactics that marketers wishing to deploy their PDF page flip e-brochures effectively should consider as part of their integrated marketing strategies.
1. Branding:
Can you brand the 'skin' or background of the brochure to match the look and feel of your main branding? A lot of PDF Page Flip solutions, particularly the DIY control panel systems don't allow this or make it a very technical process. Check before you buy.
It is very important that the e-brochure doesn't feel like a third party plugin or addition that is at odds with your website or other advertising materials. Branding of the skin and controls makes for a much more professional look for your page flip brochure.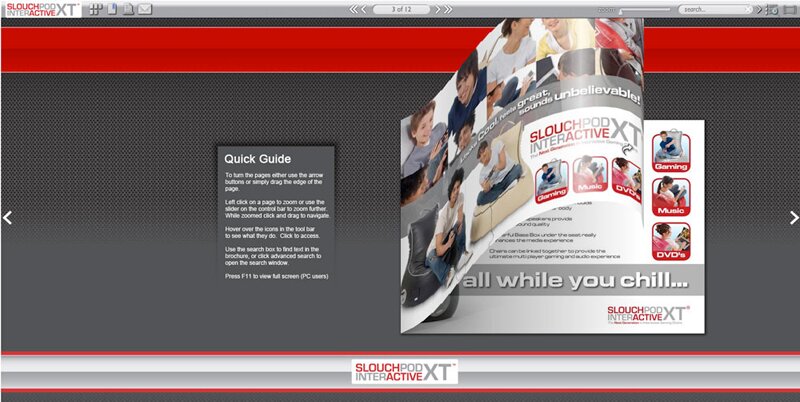 Branding the 'skin' of your e-brochure to match the look and feel of your web-assets is an important consideration when creating page flip versions of your offline materials
2. Analytics:
As with other forms of digital marketing, it is not difficult to achieve accurate metrics from assets on a web site. Most of the e-brochure products on the market tend to have proprietary analytics that require you to log into a separate control panel.
We would recommend that if you are using a javascript tag based analytics system such as Google Analytics that you ensure that your chosen e–brochure system is compatible with this to give you information on number of visits, source, keywords and dwell time.
When combined with appended URL's an analytical base such as Google will provide very valuable marketing metrics for your e-brochure campaigns.
To have no metrics on visitor usage of your e-brochure is not a viable option so this needs to be a priority consideration as part of your buying process.
3. Link tracking:
When you create the initial PDF file to serve as the base document for your page flip brochure any links to your existing website assets are normally embedded in the PDF file. These links can be adjusted prior to conversion into the page-flip document to include information for your analytics system. (You will need to be using a full version of Adobe Acrobat)
The reason this is important for marketers is two-fold.
Firstly, for general information brochures and fact-sheets or technical specs, you can track the number of readers that go on to complete a marketing outcome such as viewing more granular information or filling out a lead form on the website.
Secondly, if your e-brochure is a copy of your direct marketing catalogue then you can use a system referred to as 'flick to click' to interact with your e-commerce website.
Learning has shown that web users do not engage effectively with page flip catalogues that include in-brochure checkout systems. They don't find them intuitive and are worried about security. Research has shown that the 'flick to click' methodology is far more powerful as it uses a link appended method to pass users through to the e-commerce product pages and track them through to the checkout. Thereby providing an ROI score for e-brochures and virtual catalogues.
In a nutshell you will be able to show in monetary terms the actual number of sales directly attributable to the e-brochure itself.
For standard brochures you will be able to prove its effectiveness in driving traffic to lead forms on specific promotional pages on your website.
So now to the methodology for Google Anlaytics users. (For e-commerce tracking you will need to have this feature configured and enabled in GA)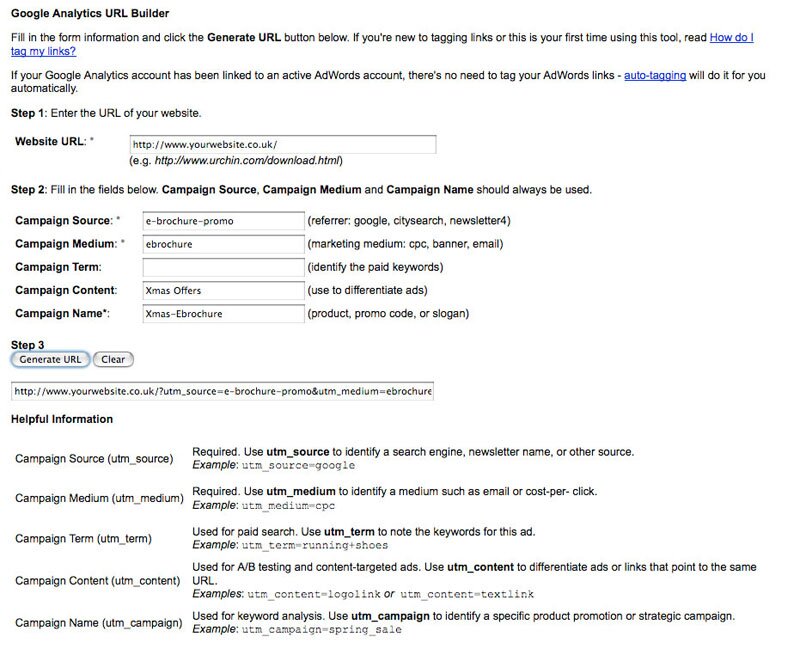 Now whenever a visitor views the e-brochure you will have measurement in Google Analytics that tells you specific information about your e-brochure users behaviour.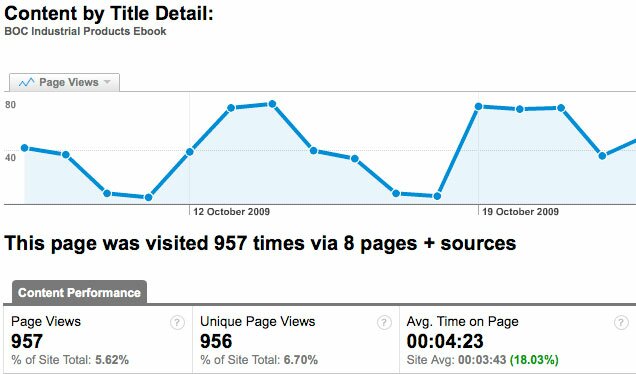 Important metrics are unique views and average time on page which equate to dwell time on the brochure as a whole.
4. Embedding your e-brochure into existing web assets:
Many of the products on the market provide you with a URL that you have to use to display the brochure on your website.
This is not going to help with your search engine optimisation as the visitor is being taken to the software suppliers website not yours.
It is essential that you maximise your e-brochures potential to add weight to your search engine optimisation efforts. Most of the products on the market have an XML feed for the brochure content so are readily indexed by search engines once through the 'sandbox'
There are a number of ways to maximise SEO effectiveness, but it's worth remembering that that 'best practice' is best. Therefore you need to ensure that the brochure loads into a page that has a controllable URL and Page Title.
The quickest way to accomplish this is through employing an iFrame in a web page for your site. The code below shows you how to employ this within the opening and closing tags of your web page. If this web page also has analytics code in place then you will be able to begin tracking.
<head> <meta http-equiv="Content-Type" content="text/html; charset=iso-utf-8" />
<title>Your Brand ::  SEO Effective title</title>
</head>
<body>
<IFRAME SRC="http://yourbrochureurl.html" WIDTH="100%" HEIGHT="100%" SCROLLING="no" FRAMEBORDER="0"></IFRAME>
</body>
5. Most effective methods for attracting visitors: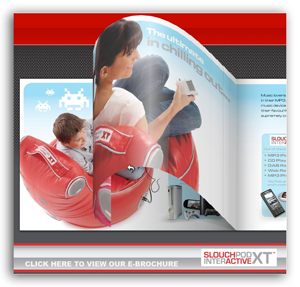 This is highly dependent on budget. If you embed the brochure or a visual link to the brochure on a high traffic area of the your website this will naturally elicit clickthrough and would be a highly cost neutral way of driving traffic.
Left: Example MPU design to attract attention for your PDF Page Flip Brochure.
However, this is not always easy to do as webmasters will initially see this new technology as unproven and will be reticent to give it any real estate on your website home page.
Where this is the case we need to look at what options are open to us to effectively market the e-brochure.
Paid Search (PPC)
You will need to be careful if using paid search advertising to point directly at the brochure itself as its likely that the quality score will be very low leading to expensive bids.
A better approach is to create a landing page that contains a clear MPU promoting the e-brochure. The landing page should contain well structured content to support your brand, product or promotion. It also makes sense to add a form to this page to capture leads, or a promotional discount voucher if linking onto an e-commerce page.
The above methodology will allow you to get the best possible quality score, lower your bid pricing, and create a marketing touch-point that covers the basics of easily showcasing your products and enabling lead generation and analytics.
Email Marketing
Learning has shown that linking to your PDF page flip e-brochures via email marketing gives strong clickthrough rates.
Incorporating a simple graphic of the Page Flip brochure in the body of the email with a clear 'click here' messaging directs your audience to the e-brochure.
One of the main advantages of incorporating email marketing into the mix is its total trackability. For every email sent we can gather statistics on the following:
Opens
Links Clicked
Bounces (Bad Addresses)
Forwards
In addition, if we employ the appended URL's in our email links (see point 3) then we can get data on how long people dwelled on the e-brochure.
When preparing email marketing it is vital that you pay attention to the brand ethic. Make sure your email creative is professional and tested for deliverability, and that the call to action is clear in the email title.
We often test client email marketing by A/B testing email subject lines to see which achieve highest open rates. We then test a second batch with A/B creative to see which provides highest clickthrough. The winner of the combined tests get blasted to the main list, often with as much as a 50% increase in clickthrough. (CTR)
Social Media Marketing
The latest digital marketing phenomenon is that of social media. Applications such as Facebook and Twitter lend themselves to promoting your e-brochures.
If you already have a business page on Facebook, it's easy to add the e-brochure by placing a post on the timeline with a link to the e-brochure URL. This will give you an automatic thumbnail of the brochure as well.
If you use Twitter we would recommend getting hold of a copy of the free Adobe AIR application 'Tweet Deck' and setting up specific searches for products and services in your sector.
You can then Tweet about your e-brochure using these terms to ensure the correct targeting.
If you are keen to track your Twitter and Facebook results into your website then empolying the URL appending approach as described in point 3 will be effective. The long URL's generated will be auto shortened to bit.ly links by Tweet Deck.
Conclusion
E-brochures are a great marketing tool when deployed correctly. Remember to plan your digital marketing tactics to make the most of PDF page flip brochures, and try to get the most out of the original PDF.
Adding multimedia elements can really bring your e-brochure to life and make for a much more engaging user experience.
Analytics are key to understanding visitor interaction with your PDF page flip brochures, and you should make sure that you set these up as part of your ebrochure strategy.
If you follow the five points below you should find that your ebrochure campaigns are not only fully measurable but also successful.
Branding
Analytics
Link Tracking
Embedding with other web assets
Effective digital marketing tactics